Click through below for directions on how to submit a sample.
Already been here before?
Just want Chain of Custodies?
Use the buttons below to download the appropriate Chain.
Need directions? Follow along below!
Gather together all of the samples you want to send in. Make sure they are individually labelled. Especially for liquid samples (e.g. tinctures), make sure they are in some kind of watertight container. Syringes work well, as do some vials with lids that create a good seal!
For non-liquid samples, plastic bags are more than adequate! For flower products, if you have access to a vacuum sealer, now's the time to whip out that bad boy.
A Chain of Custody is a document that essentially says, "Hey, I'm handing these samples off to another party". This way, there is documentation showing that the sample left your hands, arrived in ours, and then as it moves through our testing process, we continue to document its status and whereabouts. Without a chain, there is no way for us to keep track of which samples belong to which tester.
Filling a Chain out can be daunting the first time, but we're here to guide you through every step of the way. Before we get started though, you'll need to download a Chain of your own. Use the buttons below to download the Chain that corresponds to the sample type that you are submitting.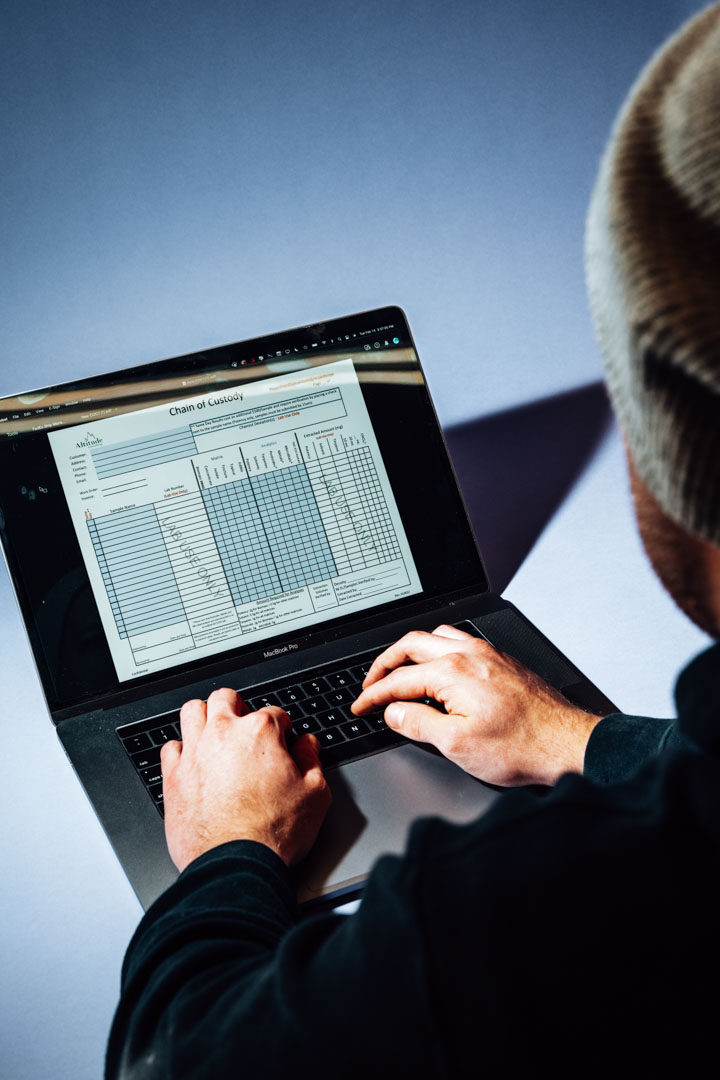 Step 3:
Filling out a Chain
Take a look at the Chain on the right. The Chain that you downloaded should look similar, if not identical, depending on which Chain you downloaded. Hover over each of the pulsing symbols on the right to understand where on the Chain each step will take place. Refer back to this as needed while you follow along.
Fill In the company/customer name, address, phone number, and email. We will use the phone number and email if we need to contact you during testing, and we will send your results and invoice to the email, so please make sure they are correct!
Fill out the sample names for each sample you want to be tested. 
After you write the names, do a quick verification that you are submitting enough of each sample based on the testing you want. You can find minimum sample sizes under "Amount Required for Analyses"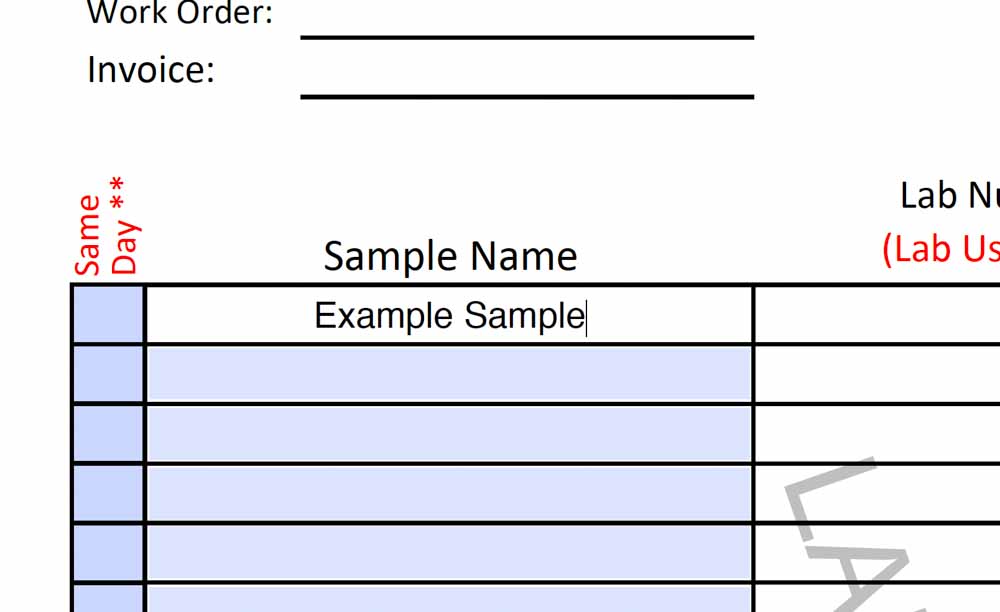 Under "Matrix", written in PURPLE on the Chain, mark "✓" in the box corresponding to the sample type (e.g. biomass, edible).
Under "Analytics", written in BLUE on the Chain, mark "✓" in the box that corresponds to the type of testing you want on that sample (e.g. potency, solvents).
If you have any samples you want same day testing on, now's the time to mark them down! You'll notice a column of single checkboxes running down the very left side of the Chain, with "Same Day**" written above the column. Mark a "✓" in all checkboxes that correspond to which samples you want same day testing on. Note: Same day testing is only available for potency tests on cannabis samples.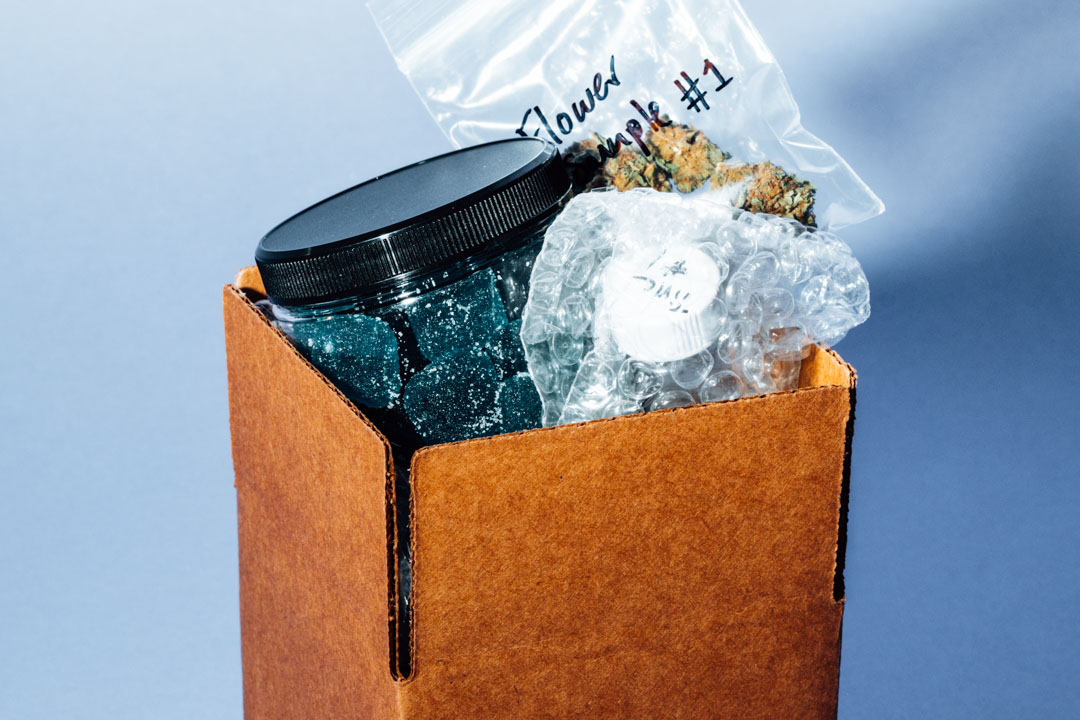 Take your samples, your Chain, and any old box. Pack the samples into the box. If you are shipping samples in glass containers, throw some bubble wrap in there, or wrap each sample individually in bubble wrap (big bonus points).
Especially if you are shipping flower, vacuum sealing is always a good idea when you can.
Seal up your box with packing tape and print out a label from any major carrier (see note below). Ship samples to the following address:
Sample Receiving
Altitude Consulting
3262 S Platte River Dr.
Englewood, CO 80110
A note on picking a carrier:
As of August 22, 2022 FedEx has changed its policy in regards to shipping hemp. Although many locations have signage claiming that as long as the contents of the box are Farm Bill compliant, you are all set. This, however, is not the case. FedEx obviously won't know what's in the box unless they open it, but why break rules and risk it? Plus, FedEx is expensive. Because of this, we recommending shipping through UPS or USPS when submitting samples.
Step 6:
Celebration Dance!
Congratulations! You've just submitted your first samples. Once we receive them, we'll start processing them. Shortly after that, you'll receive an invoice to your email. After the invoice is paid, the results will be released to the same email!